Virtual reality in shipbuilding: all-in-one shipyard 3D model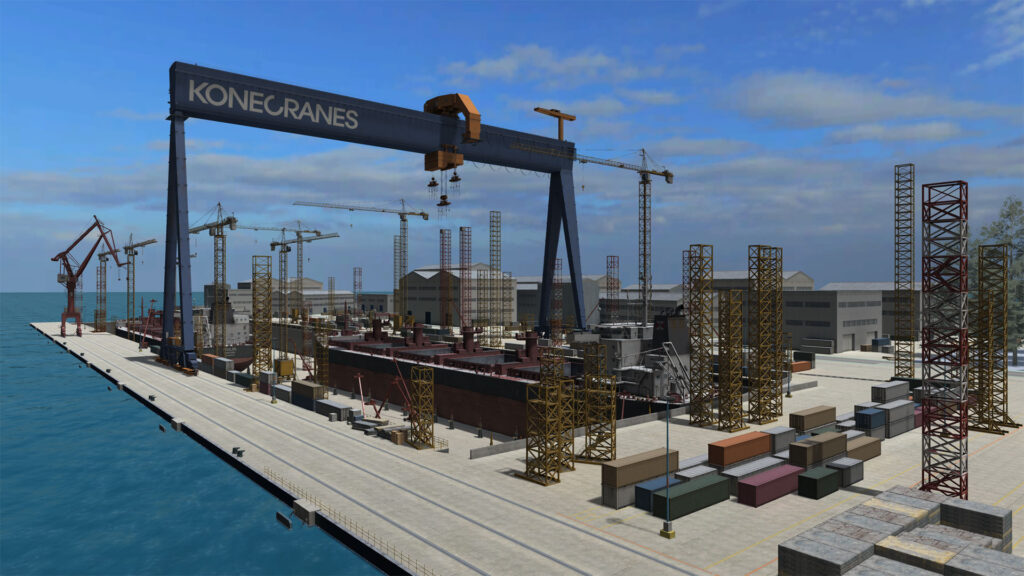 We received quite a surprising request for a shipyard 3D model suitable for virtual reality (VR) training last year. Such locations look close to the ports that we regularly create for professional applications (simulation, training, and visualization) with many standard features – piers, water breaks, storage facilities like tanks and warehouses, loading, carriage, and unloading machines, etc. Thus, we were able to use a vast 3D library of standard props, vehicles, and textures, and this project seemed not too difficult for us, and we got down to work immediately.
We reviewed several modern shipyards in North Korea using Google Maps and selected a typical landscape and planning. We decided not to reproduce an exact location but to create an area with common shipyard characteristic features. The main technical challenge was keeping the database in the first-person details and not exceeding 2M of triangles to be consistent with VR requirements. So, the developing area shouldn't be too large but include all standard details – cranes, dry docks, warehouses, and space for fabrication of ships.
Of course, the most impressive detail of a modern shipyard is Goliath shipbuilding gantry cranes manipulating massive blocks that make up ships' hulls. So we decided to create a quite detailed 3D model, which became not only a point of interest of the final database but a separate valuable 3D asset. After reviewing several crane manufacturers, we stopped on Konecranes as one of the most well-known and well-documented. The resulting 3D model with multiple level-of-detail is suitable for the first-person real-time visualization and high-resolution offline renderings.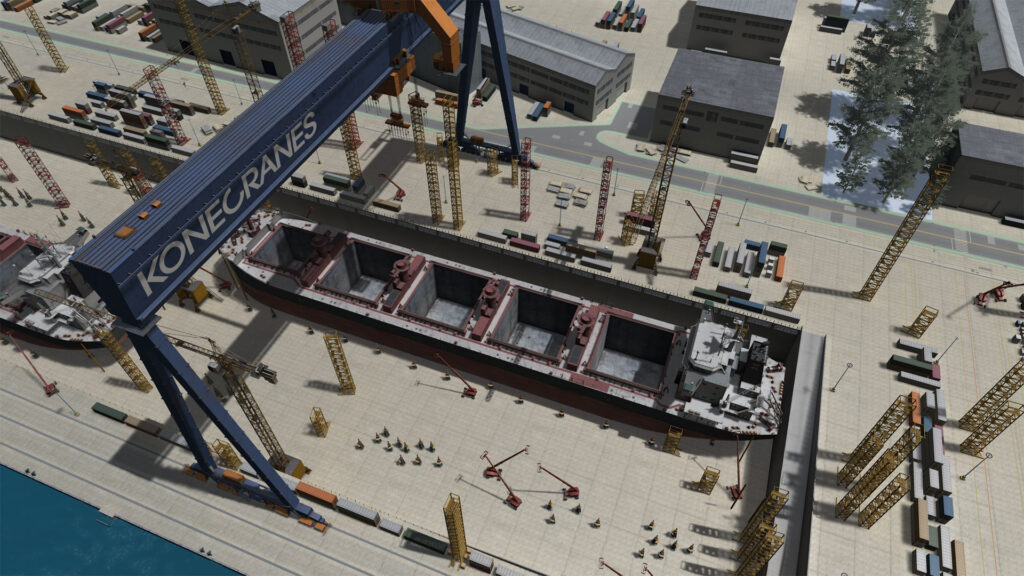 See our goliath gantry crane 3D model on TurboSquid.
We also reproduced other types of cranes: a double boom shipyard crane for accurate load handling and a tower crane that is now widely used in the dynamic environment of shipyards. These models are less detailed than the Goliath crane but good enough for the overall impression and functional scenarios.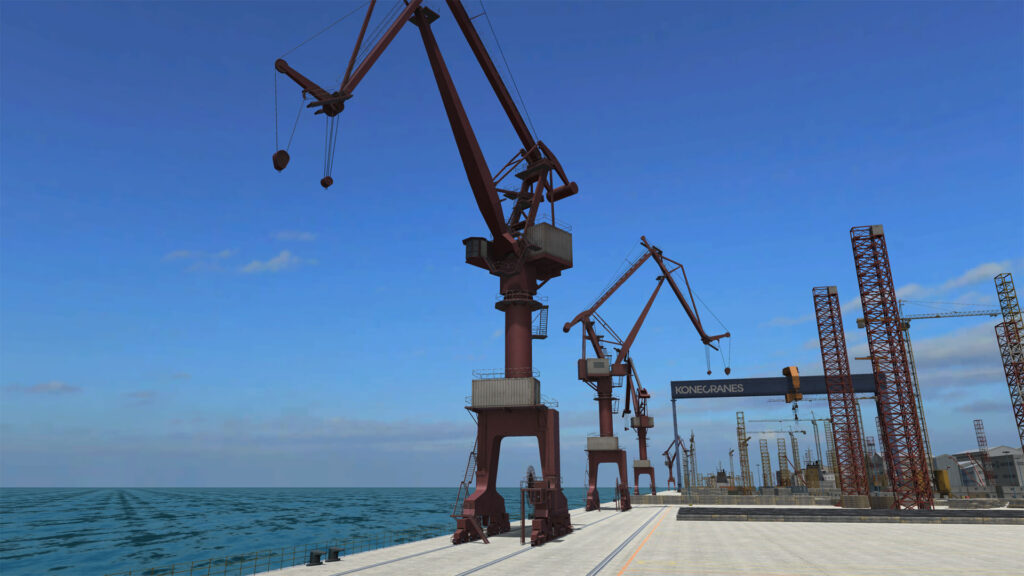 3D models of a double boom shipyard crane and a tower crane are also available on TurboSquid as separate assets.
We used 3D models of a telescopic boom lift and reach stacker vehicles from our off-the-shelf library to add immersion and reproduce traffic inside the shipyard. Containers, boxes, and other storage facilities were also reused from our previous projects with minor updates. Finally, we created some noticeable shipyard details like modular scaffolding 3D models from scratch.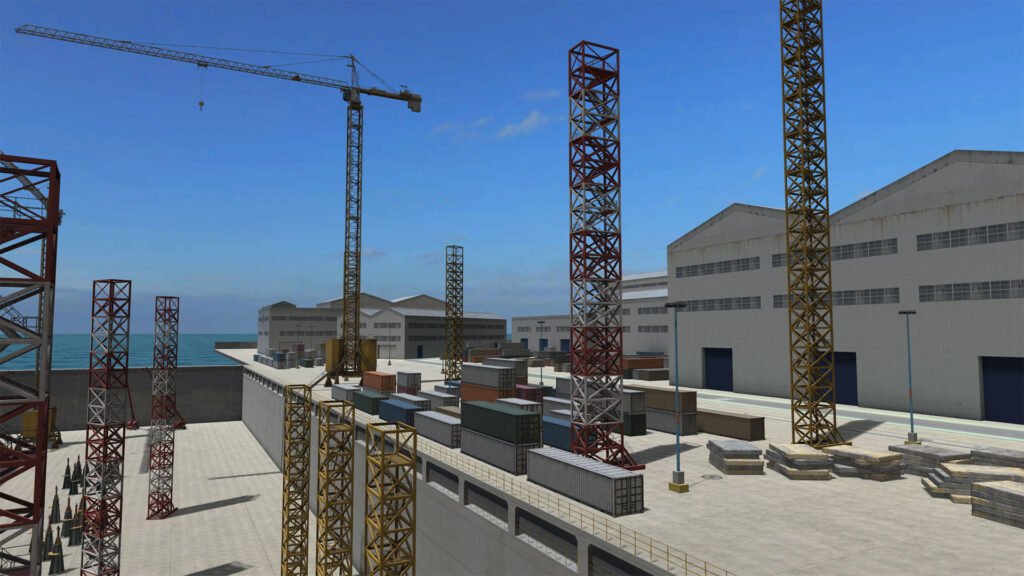 In parallel, the terrain team was creating an environment 3D model. We selected Unity as the native platform based on its leading position in virtual training nowadays. But we tried to use as few engine-related features as possible and save the opportunity to convert the database to other engines. The main shipyard area was created as the single 3D model in the FBX file format, and only the surrounding landscape was done as the Unity terrain. Technically that allows the end-user to convert the database to any modern game engine with minimal effort. All costly objects in the scene have LODs, and repeatable elements like container stacks are combined for better graphics performance.
We didn't spend much time on warehouse 3D models because their only purpose was to create a visual border between the fabrication area and the natural background. So we adopted several low detailed buildings from our turnkey port databases. They use a small set of tileable textures shared between the buildings to save video memory and, in doing so, look various and realistic. To complete the picture, we added some vegetation after assembling and profiling the scene.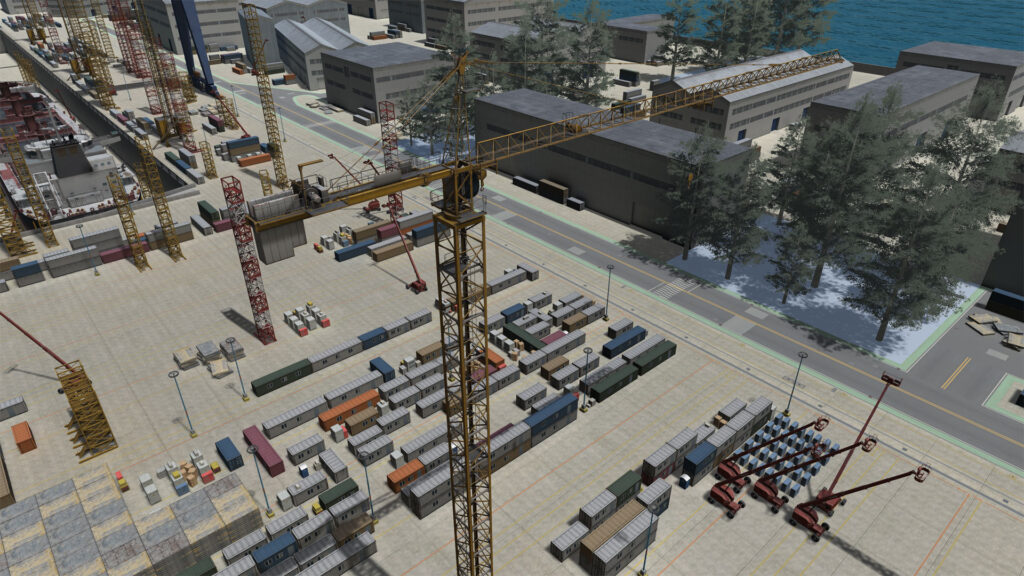 In the end, we got a low-cost product valuable for various entry-level VR training solutions. There are very few competitive off-the-shelf products available on 3D marketplaces, and there is no one suitable for the first-person walk-through.
Unity package in the basic configuration is available on TurboSquid. Please contact us for technical details, licensing, or system integration of the shipyard 3D database described.