Cruise Ship 3D model
We have been developing our ship 3D models library for several years. We're passionate about this turnkey project and drawing maximum attention to our models' quality and relevance. After we have created the main types of merchant ships, our team faced making one of the most impressive ships – a cruise liner.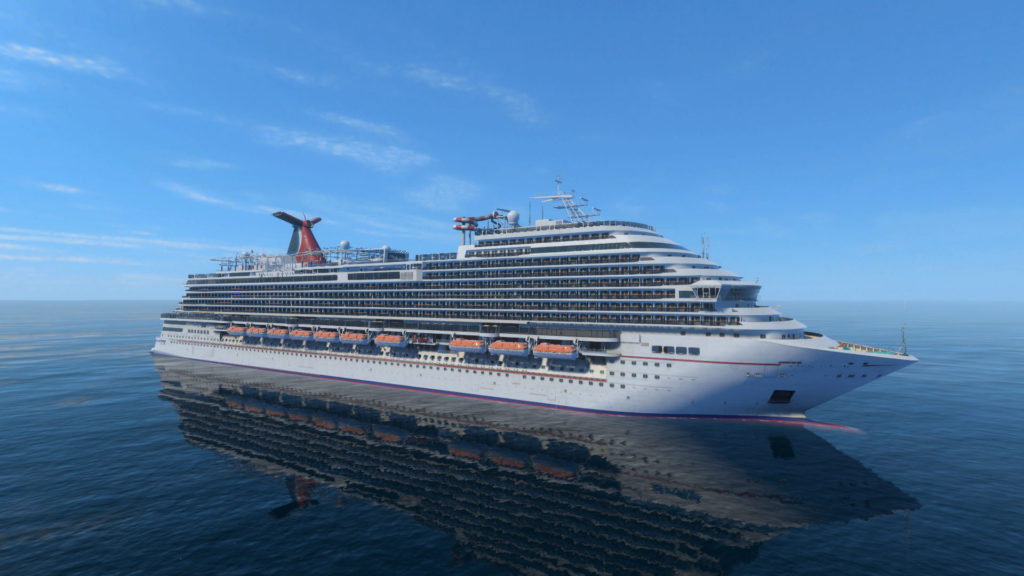 Why the 3D modeling of a cruise ship is challenging
The cruise ships' design is unbelievably complicated, and it is no exaggeration to say that it is a hilltop of the naval architecture. Such vessels' configuration includes a bridge, navigation, and radio antennas, several deck levels with different cabins, verandas, a playing area, lifeboats, and davits. This enormous number of details can embarrass even experienced 3D artists.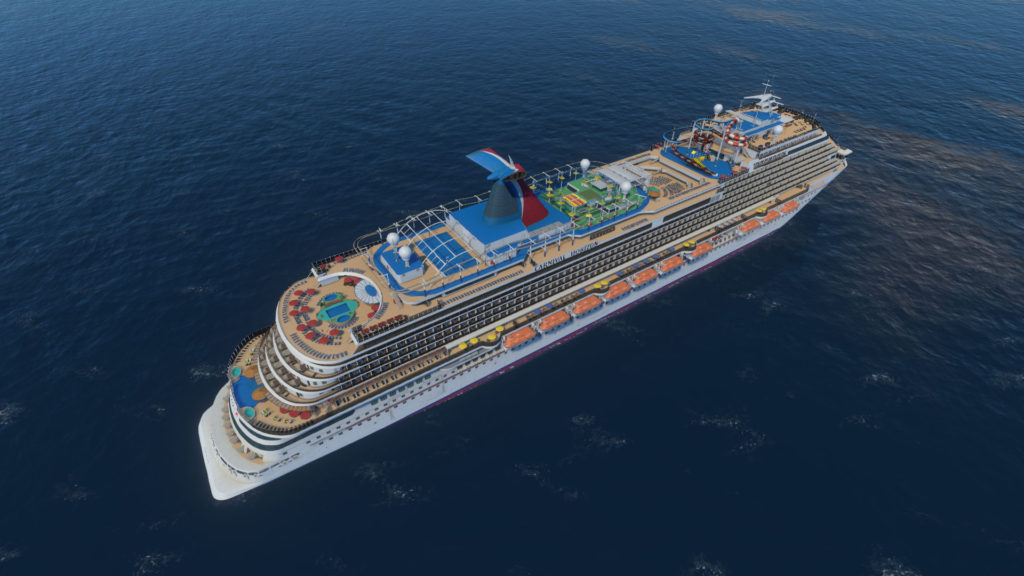 Product specifications
Considering our core area of expertise, we have decided to make a real-time 3D model with the following options:
The model must be suitable for wide shot visualization. The ship must be established unequivocally (the type of vessel and main details) from all distances, at day or night time.
The model must be detailed enough for close-up rendering.
The model can be used in scenario-based training applications.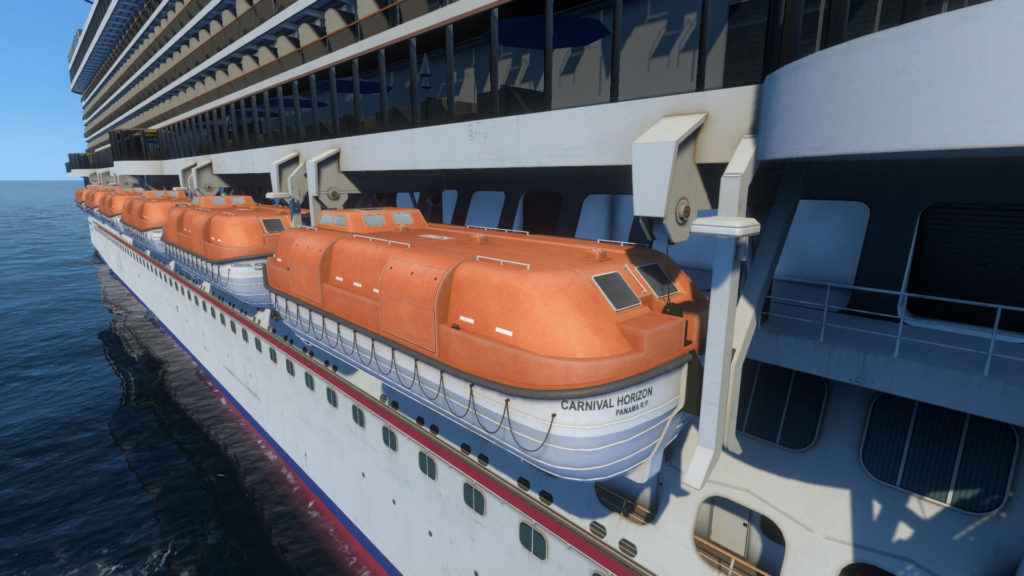 In practice, our customers demand 3D ship models with a polycount range of 100-300K triangles. Modern engines process such geometry value quite efficiently. Also, we create accurate level-of-details so that user can select any intermediate LOD as the finest one, in case of problems with productivity. Finally, we used instancing for Unity asset optimizations.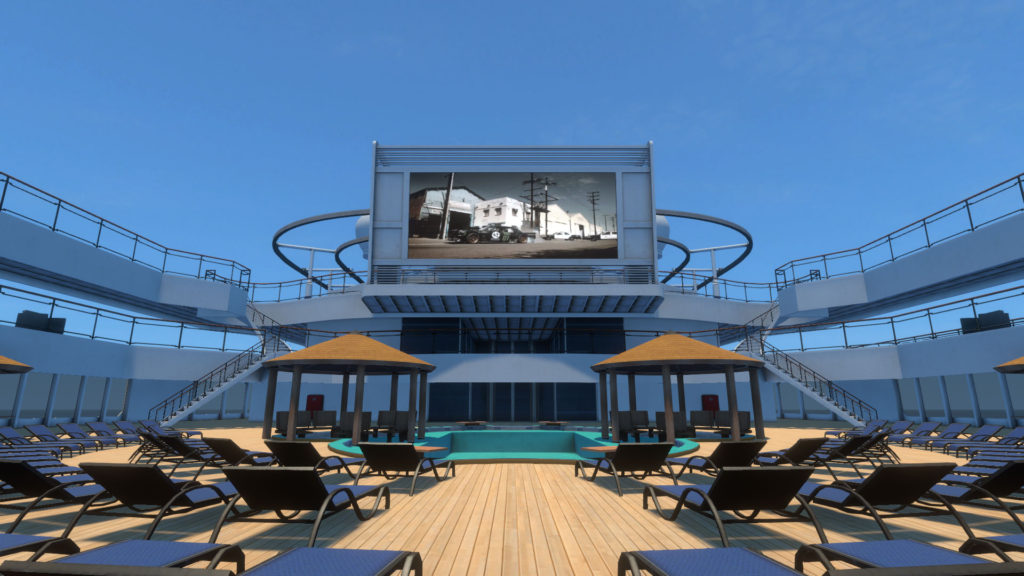 We wanted to have close-up planes, so we populate the ship by an enormous amount of props – a sun lounger, chairs, tables, umbrellas, etc. This extra polycount can be easily hidden without any damage to an overall view.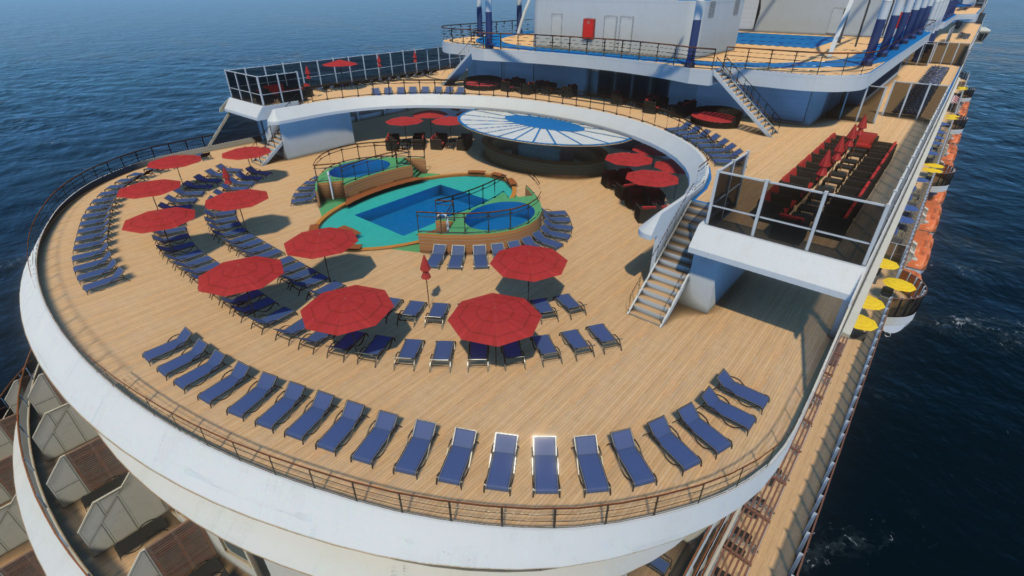 The choice of a ship was not too difficult. We selected the most advanced vessels from the two leading cruise lines – the Oasis-class cruise ship of Royal Caribbean International (Royal Caribbean Group) and Vista-class of Carnival Cruise Line (Carnival Corporation & plc). They are both significant and exceptional modern ships. After collecting and researching many sources, we have selected Carnival Horizon as the most comfortable to understand from a 3D modeling point of view.
Development approaches
We traditionally used our company agile approaches to accelerate development and prevent burnout on such a massive project.
Several artists started to work together from the beginning. Even before the hull blocking was finished, we began to make lifeboats, playing areas, and different kinds of props. We made more significant parts in a progressive manner or step by step following the blocking development. So the 3D model of the ship picked up various details quickly.
The monitoring of the work was implemented in Trello and Clockyfy.
We were decreasing the team as most parts of the ship model were finished. And finally, senior and technical artists combined elements as an integrated whole.
The final tests were done in Marmoset Toolbag 3 and the Unity engine.
For details about agile development approaches that we use in our work, read the blog article "How to be an Agile Team in 3D Models Development".
---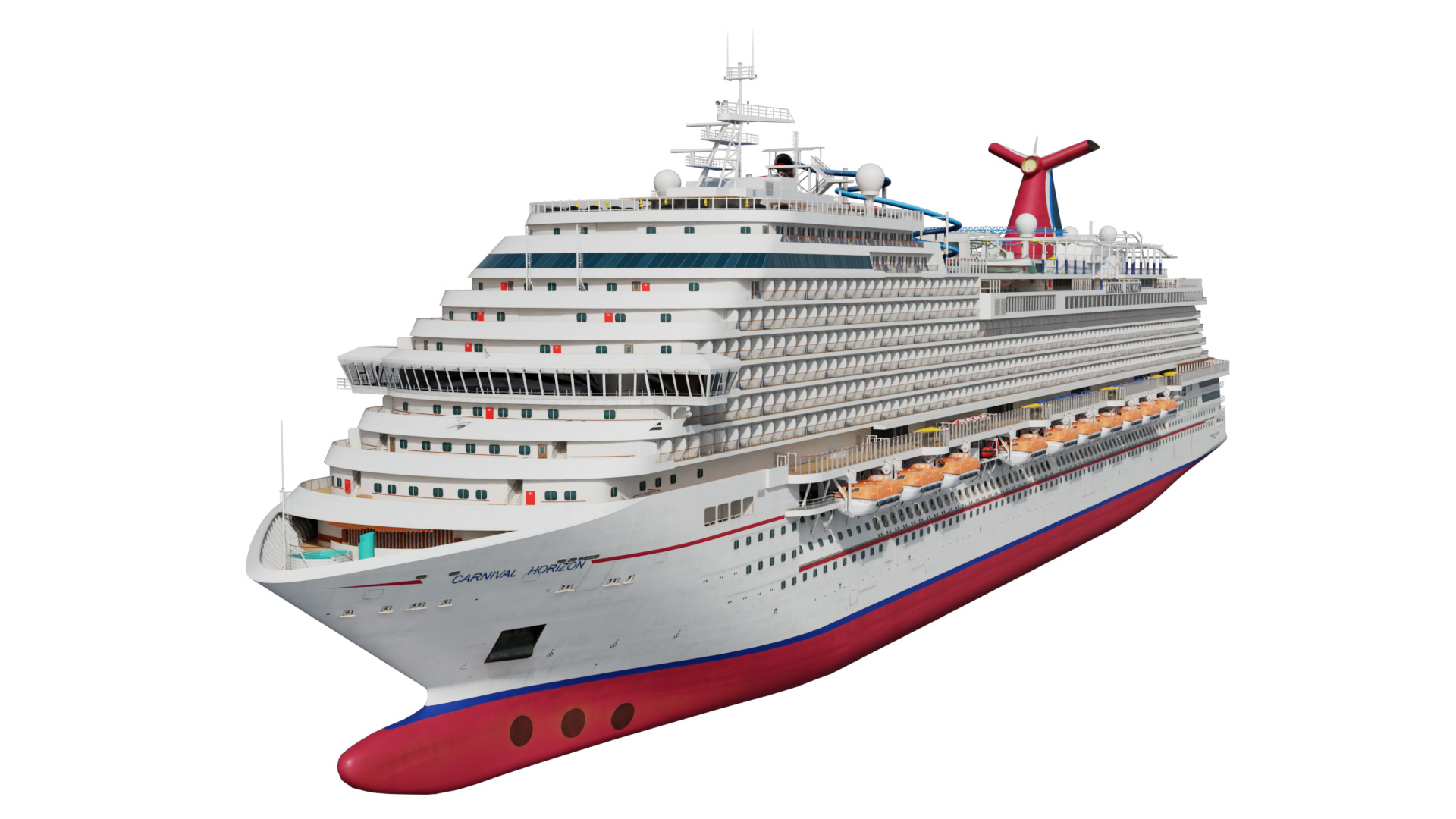 This model is available for online purchase. Please visit our 3D ship library
---
Please contact us for your custom ship 3D model